Like many successful artists, American star Camille Blouin aka 'Lady Cam' had a natural affinity with music from a young age. Originally from Dallas Texas, Camille moved to Louisiana when she was a child. She fell in love with music because it was a way of naturally expressing and uplifting herself. With a unique flow, mean girl delivery and genuinely interesting use of lyrics, Lady Cam confirm her future rise to notoriety the excellent single "Da Wave".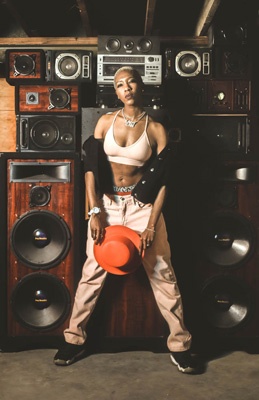 Female rappers have been bragging about how bad they are since before it was even called rap music, but Lady Cam combines it with banging beats, which translates into an unmistakable air of empowered attitude within her raps. She lets it all hang out on "Da Wave". Lady Cam is here to establish her position in the rap game and do so firmly, while enjoying the ride along the way.
The song is a work built on fantastic bars and a welcomingly bright flow that is a pure joy to spin. It's a surefire club hit that will effectively appeal to both modern and classic rap fans alike. It's a work of pure vibe where every line is an absolute flex. Lady Cam struts her stuff with an infectious momentum that never lets up. Her potential rise in the game, is both dutiful and inevitable, as she holds the talent and the charisma to do so.
This may sound like old hat, but Lady Cam stands out for the degree of unadulterated confidence she exudes. Her very appeal, and that of her music, is that over and above all, she possesses what everyone wants: purpose and a drive, to be better and more. Barbs seem to fly out of her wit, quick as a snap, an almost instinctual reminder of who she is.
That swagger starts off immediately and doesn't stop for one second while "Da Wave" is being played. The song showcases her ability to spit at a rapid pace while giving her the perfect introduction of who she is – a badass that deserves all the attention. "Da Wave" is impactful carrying the message of boldness she exudes. Lady Cam has no plans to be anything besides her most authentic self, and flaunt it enthusiastically for the world to savor.
OFFICIAL LINKS:
www.iloveladycam.com
www.instagram.com/ladycammc
www.facebook.com/ladycamfans
www.twitter.com/ladycam
www.youtube.com/ladycamm
Song Visualizer: https://www.youtube.com/watch?v=EJqbUzEm1s4
iTunes: https://music.apple.com/us/album/da-wave-single/1617675821