Class Vee is an American singer and songwriter from Florida. Her music influences are from the 80s and she hopes to tap into various styles including her own production. Dovetailing between meticulousness and soulfulness is the space where the singer's sophistication reveals itself, on the steamy floor-filling single "Where Do We Stand". The songs contained in Class Vee's fresh catalog don't just flout instrumental prowess. Compelling song texts sit ensconced at the core of the arrangements and her identifiable vocal presence breathes life into them. The songstress enchantingly straddles the divide between observation and active participation in her narratives.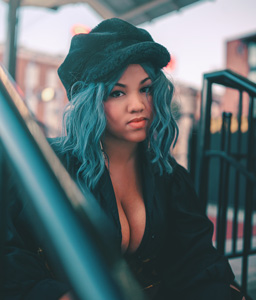 Using her smoldering voice as a seductive lead-in, Class Vee transfixes audiences on "Where Do We Stand" before guiding them into the labyrinthine interior of her thoughts and emotions: "Feeling so lucky. No longer feel lonely. You're thinking of me. You got me thinking like "we". You're replaying in my head. Your scent is still in my bed. I still have a question. What are your intentions? I hate this waiting game. I still don't know which way, Where do we stand?"
Inspiring and enrapturing to any, and all who encounter it, the classic appeal of "Where Do We Stand" will captivate lovers of both modern day and nostalgic sounds. Class Vee's confidence as a vocalist is full and ambitious, while the careful elegance of the production and instrumental settings form a solid foundation for the melody. The singer's resonant and introspective tone has just the right amount of edge, and the lyrics is as enlightened, as it is reflective.
It's this sense of blissful sonic emotion in which "Where Do We Stand" swims – a total slipstream of feeling, experience and longing in which you can lose yourself. There's a crispness, and vacuum-sealed quality to the recording, which sounds timeless.
OFFICIAL LINKS: YOUTUBE – SPOTIFY – INSTAGRAM @classvee