As a young child, Tyran Maxey turned to writing, music, and his faith in order to deal with the level of crime & despair surrounding him in the city of Chicago.  Knowing he was destined for more, and blessed with an ability to communicate, inspire, and educate – Tyran adapted to the scene around him, kept his head up, put in the work, and focused on refining his talents into a career built for longevity.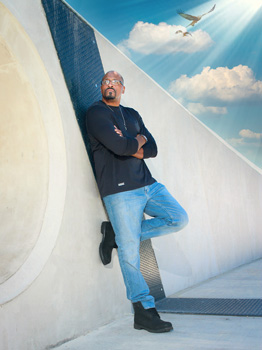 With over two full decades in the industry as an artist/writer/producer willing and able to out hustle the rest, he's turned his dreams into his daily reality – and in 2022, he's about to take his music to a whole new level.
By daring to go deep into the gritty details of life and share his unfiltered, raw, and real perspective – the man lives his truth, 100% – he doesn't just rap about it, he IS about it.  From the vivid imagery of his lyricism, to the authentic fluidity of his flow, and the true value of the insightful wisdom Tyran drops into his bars, he's become a verifiable force in Conscious Hip-Hop and a champion of telling it like it really is.
He returns with a hard-hitting new single called "Lord Have Mercy" being released in advance of his upcoming album "A god is coming" coming out early Fall 2022 – Tyran Maxey is hungrier for the m-i-c than ever before & ready to make the most of every moment on his way to #1.