Pinky Music London is proud to present the extraordinary talents of 17-year-old singer-songwriter Alex Jo on her stunning debut single, "Never Give Up". The song is a brilliant mix of contemporary pop with the sound and style of funky R&B, and jazzy soul flavors. It's a powerful statement, dressed in a vivacious melody and a groove-driven beat. This intoxicating mid-tempo tune sees Alex Jo exploring the raw edge of her soulful and sophisticated vocals over a shimmering and infectious production.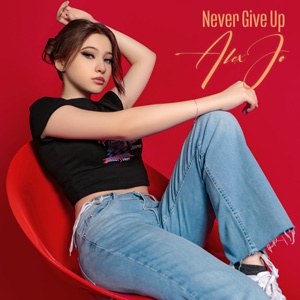 Rolling basslines, incandescent keys, and jangling wah-wah- guitars, propel a classic sensibility with a modern sound and styling. "Never Give Up" is pure ear candy, striking the right balance in performance, songwriting and production to create a memorable work that is set to put Alex Jo right in the center of the global music scene. The sensational part of this project is just how naturally this all seems to come for the young Romanian-born songstress, now based in the UK.
That said, we should not be surprised by the magnificence of the teenage artist's talents.  Alex Jo began singing at the age of six and has been developing her love for the music scene and honing her talents ever since. By the age of eight, she already appeared in renowned singing contests like Next Star and the Voice of Romania, blowing the judges away with her natural vocal talent.
Alex Jo has intensively studied both the flute and the piano, while also taking singing lessons at the Octav Bancila National College of Art, expanding her vocal range and musical knowledge. The debut single "Never Give Up" shows the world what her superb team over at Pinky Music London already knew she was capable of doing. Alex Jo possesses the vocal power to transition into any sound she chooses. Moreover, she has the looks, and the attitude to conquer the world.
"Never Give Up" points the way forward for Alex Jo, as she and Pinky Music London set about securing her place in the pop music industry, where she will be able to show the world more of her immense talent. There can be no doubt that "Never Give Up" represents an artist, who is undoubtedly determined and confident in every move she makes.
OFFICIAL LINKS:
FACEBOOK – https://www.facebook.com/Alex.Jo.Singer
TWITTER – https://twitter.com/AlexJo_Music
PINKY MUSIC – https://pinkymusic.co.uk/artist/alex-jo/
YOUTUBE – https://www.youtube.com/watch?v=wIVTC8AoeSQ
SPOTIFY – https://open.spotify.com/track/7Mf7rjdv8kJTORP5YnmT8d?si=9a4ca55aa003499b